FOLKMANIS PUPPETS
Folkmanis® Puppets believes imagination is the key to a healthy childhood, encouraging play and discovery to develop the skills necessary in life. The company has been making the most innovative and engaging specialty puppets in the world since 1976, delighting imaginations and winning nearly every industry, child development, and kid-tested award, many repeatedly.
42 Years and Growing!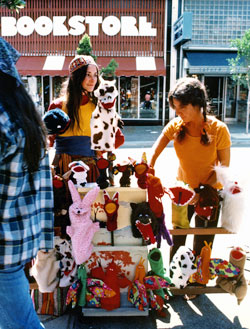 Conceived as a "cottage industry" business in Watertown, MA., in the late 1960's and nurtured among the street vendors lining Berkeley's famed Telegraph Avenue, Folkmanis® Puppets are the expression of Judy Folkmanis' active imagination, sewing wizardry, and love of nature.
Creating her first animal puppets to entertain her own children, Judy was astounded when her unsung, but cuddly, creations began attracting a growing group of paying customers. Most often these were other parents who sought high play value from their toy purchases and an appreciation of the natural world for their children.